There are three levels of local councils in England:
Around 10,000 parish and town councils, working closest to the community
181 district councils, with responsibility for housing and land use planning
24 county councils, with responsibility for highways and education
There are also 58 unitary councils and 36 metropolitan districts in England that combine the functions and responsibilities of district and counties, and 32 London borough councils that do the same.
Scotland has 32 unitary authorities, and Wales has 22 but also some 730 community councils which are similar to English parish councils. Northern Ireland has 11 district authorities, but they have different responsibilities to those in the rest of the UK.
UK100 is a district and county-level network dedicated to tackling the climate emergency. In April 2021 they published a study report on local authority powers relating to climate action. A number of higher-level authorities have published action plans for their local area, including:
The Local Government Association (LGA) are the national voice of local government and have published a number of relevant reports including Delivering Local Net Zero and a Neighbourhood Approach to Decarbonisation.
Close working between central and local government is a vital part of climate action, as made clear in a 2021 report from the National Audit Office which has led to a Local Net Zero Forum for England jointly chaired by the LGA and the Department for Energy Security and Net Zero (DESNZ – before 2023 part of the Department for Business Energy and Industrial Strategy).
Local Government and Net Zero in England
TOWN AND PARISH COUNCILS
This page is principally addressed to English parish and town councils, who as well as campaigning upwards, can address climate change in a number of ways. Some have already taken the step of declaring a "climate emergency" – or a "sustainability strategy", a softer approach to delivering a similar outcome – but it is recommended that they involve their communities before making such a step, to gain consensus on action and also to provide a base for volunteer activity.
As indicated under What Can We All Do Now, a key stage for local councils is taking the collective decision to not only declare a climate emergency but to go on to practical action, and some have already published their plans, including:
Rudby Parish Council – Climate Action Plan
Westerleigh Parish Council – Local Nature Action Plan
Holme Valley Parish Council – Climate Emergency Action Plan
Holme Valley have also shared a range of other material that others may use in return for acknowledgement of the source.
There are a number of ways in which parish councillors or clerks can help bring the climate action agenda forward, and by inference members of councils may be more engaged by one approach or another.
Workshops
A workshop event, preferably including members of the community, can be a good crucible for bringing clarity about the reasons for action, and also instantly harnessing the energy of the event to decisions to make further steps. Within a workshop, there are naturally different techniques for engaging the attendees. For example, Rob Hopkins in his 2019 book "From What Is To What If" (paperback page 117) describes how he gets people to close their eyes and use their imagination to picture a time where climate action has produced change, and then to step back into the present and report what they have seen, felt or heard.
Local communication
Workshops can of course have the result that other groups in the community take the lead in different forms of climate action. This should not of course be used by councils as an excuse to do little themselves (!), but rather act as a spur to develop their own action plans to cover any local gaps. National associations like Friends of the Earth and the Transition Network may already have active groups in a council's area, and the parish clerk in particular may have a role in encouraging communication and sharing by publishing links to these local groups on the parish council website. Links to emerging local networks are given on the Climate Action Networks page. Councils can also support the creation and development of climate change community groups, as with this example from Overton in Hampshire.
How to Set Up a Climate Change Community Group
Powers
Parish and town councils have many powers that can be used to deliver climate action. It will be helpful for councils to be clear about what they can do which is within their statutory remit, and so what powers can be invoked to justify spending time and resources. The initial list of local council's powers to address and or reduce climate change, published by NALC in September 2020 on their Climate Change webpage, has been used as the basis for a work in progress to categorise powers and actions within the three approaches of mitigation, adaptation and campaigning.
Powers and Opportunities around Climate Change November 2021
Response to planning applications
All local councils of whatever size have responding to planning applications as one of their core functions. Some guidance is developing on how all councils can include climate concerns in their responses.
Draft planning application guidance August 2023
Local Projects
Sometimes it can be simplest to inspire people to develop particular projects – even by describing them without using the phrase "climate change", but rather by focusing on the "co-benefits", such as energy bills being reduced by installing solar panels. In 2020 NALC published Climate Change Case Studies giving examples of a dozen types of local action already taking place around the country. Work is in progress to create "how to do" summaries of the sequence of steps to achieve such actions, to be promoted through this website's Local Projects page.
GUIDANCE
The examples of action listed at the end of this page are only a small fraction of the range of actions that parish and town councils can take.
The Society for Local Council Clerks (SLCC) has produced Environmental Planning Guidance as a working document which seeks to describe all the ways climate action can be included in local councils' regular activities, and includes a draft action plan template suggesting how strategy and actions can come together at a local level.
Friends of the Earth have published a list of 20 actions that parish and town councils can take on the climate and nature emergency. The Department for Environment Food and Rural Affairs (DEFRA) has published a guide on ways town and parish councils can tackle climate change under the Sustainable Energy and Climate Change Act 2006 which also provides a useful overview of the whole process of climate action.
The Centre for Sustainable Energy (CSE) has published a Climate Emergency Action Planning Tool with a downloadable spreadsheet to help local councils to co-ordinate their approach that also contains guidance on how to run a workshop session. See below the "Onion Diagram" from the CSE webpage showing the "levers of influence" that a local authority can pull to make its response to the climate emergency more powerful.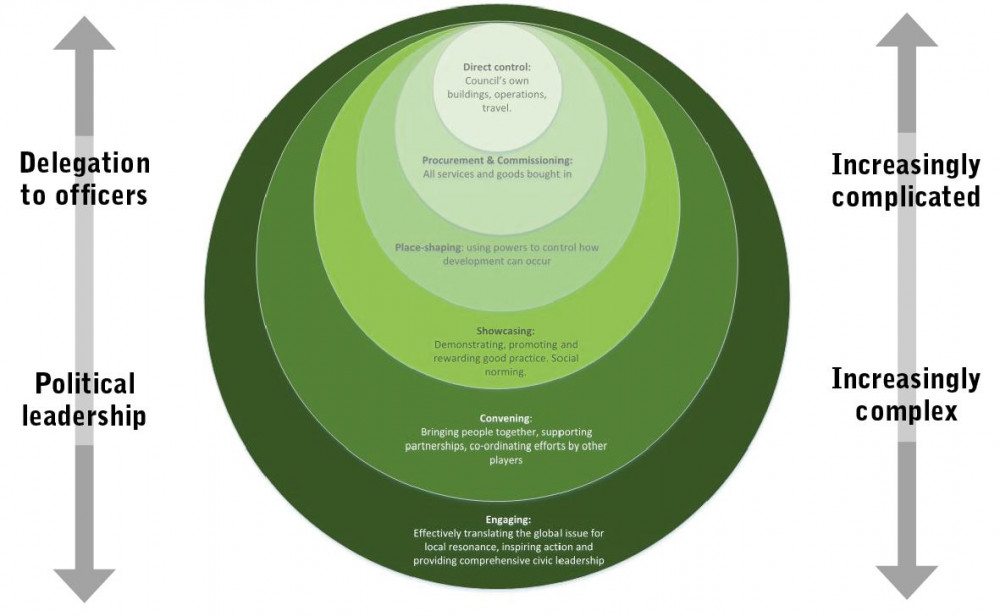 CSE have also published guidance on Local Area Energy Planning.
NEIGHBOURHOOD DEVELOPMENT PLANS
Under the 2011 Localism Act any local area in England, not just town and parish councils but unparished urban areas as well, can produce a neighbourhood plan that captures local actions in relation to climate change and secure them as part of the local planning system.
CSE guidance – Neighbourhood planning in a climate emergency
Long Ashton Neighbourhood Plan
Webpage – Frome's Neighbourhood Plan
Frome Town Council Climate Emergency Planning Guide
EXAMPLES OF ACTIONS
MITIGATION (some examples only):
Ensure all council buildings are well insulated and use renewable energy
Put tree preservation orders on all local mature trees, and plant more trees
Buy goods and services locally to reduce transport costs
ADAPTATION (some examples only):
Create new allotments to meet local demand
Review local flood risks and take appropriate action
Carry out a local solar audit to confirm opportunities for renewable energy
CAMPAIGN:
As well as producing their own neighbourhood development plans, parish councils can make points about location, renewable energy, tree management, public transport and other such issues when responding to planning applications which are resolved by higher level authorities.
FURTHER READING:
Rob Hopkins, From What Is to What If (Chelsea Green Publishing 2019)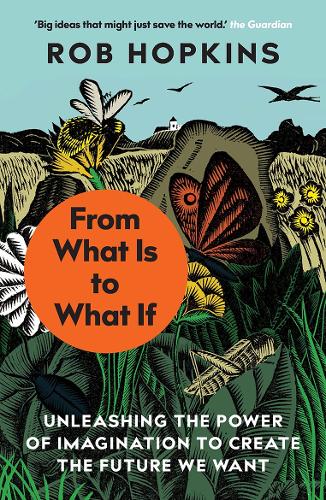 This page was last updated on 25th September 2023.