Each industry will inevitably be affected differently by climate change – not least the automotive industry, which is already gearing up to produce electric cars (though at a shocking price so far, and increased carbon cost per vehicle manufactured). The steel-making industry has for many years used coal as its energy source, which is problematic in terms of finding an alternative.
Those UK industries that rely on imported materials are experiencing a range of extra costs around transportation (as well as extra red tape due to Brexit when dealing with countries in the European Union). In such cases the carbon footprint of their activities is increased by the carbon cost of the materials they import, and indeed also the carbon cost of export, which is another issue.
The UK Government has published data about greenhouse gas emissions, including this chart of emissions by industry.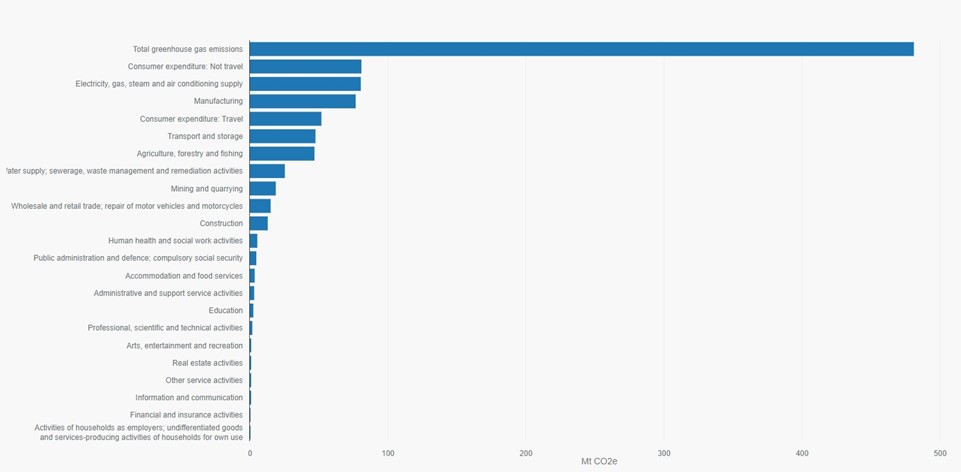 In 2020, the industries contributing the most greenhouse gas emissions were similar to previous years: energy supply, manufacturing, and transport & storage. These three industries and households together accounted for 70% of emissions in 2020.
MITIGATION:
All industries need to review what they can do about energy use and distribution as part of a carbon audit of how they operate.
ADAPTATION:
All industries need to consider how they may adapt what they do in the light of climate change, not least in terms of securing the employment and wellbeing of their workforces.
CAMPAIGN:
Sector bodies such as the Home Builders Federation already lobby Government on a regular basis about their industry's interests. See more about UK Industry Sectors here.
FURTHER READING:
Each industry has its own networks and sources of good practice, as well as projections for the future in the light of market conditions and Government legislation. Many also have their own training boards that can provide further information.
This page was last updated on 28th January 2023.